Sheng Yen Professorship in Chinese Buddhist Studies and Fellowship for Graduate Students
In March, 2011, the Sheng Yen Education Foundation of Taiwan gave two gifts—totaling $160,000—to the Department of Religion, says Nancy Smilowitz, Assistant Dean for the College of Arts and Sciences. One gift will create an endowed professorship, and the other will create two ongoing graduate fellowships.
Before his death in 2009, Sheng Yen was one of the most influential Buddhist teachers and monks in the Western world, dividing his time between the United States and Taiwan. The foundation carries on his work by providing grants for academic research on Buddhism and the promotion of Buddhist education.
The endowed Sheng Yen Professorship in Chinese Buddhist Studies is awarded to Assistant Professor Jimmy Yu, who at one time was one of Sheng Yen's chief translators and who now does research on Chinese Buddhism and religions; monasticism and asceticism; and gender and religion.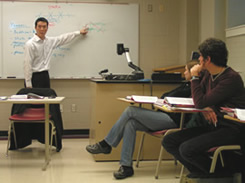 The endowment is supported by a gift of $100,000 from the Sheng Yen Education Foundation and will be eligible for as much as $50,000 in state matching funds.
The graduate fellowships in Chinese Buddhist Studies are expected to begin in Autumn 2012. This $60,000 gift will support one or more students (MA or PhD) studying Chinese Buddhism for two years, and Florida State University will provide the stipend for the remaining years. Part of the money will also be allocated to establish a Sheng Yen Buddhist Studies Lecture Series, which will begin in the fall of 2011.
"We take this and all private giving seriously," says Dean Joseph Travis, "and would not be able to enhance the program in Chinese Buddhism without the Sheng Yen Education Foundation's generosity."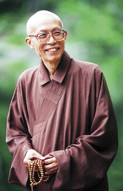 Born in mainland China in 1930, Sheng Yen entered a Buddhist monastery at age 13, but in 1949 fled the mainland for Taiwan as a youth soldier. After finishing his military service, he reentered monasticism and entered a solitary meditation retreat. Realizing the necessity of modern education and degree for Chinese Buddhists, he went on to pursue academic studies. In 1969, he was admitted to Rissho University in Japan based on the strength of his writings on Buddhism published during his retreat. In 1975, he became the first Buddhist cleric who earned a doctorate in Buddhist Literature, after which he came to the United States and began teaching Chan Buddhism to Westerners. He later founded the Chung-Hwa Institute of Buddhists Studies, Dharma Drum Mountain monastic complex, Dharma Drum University, and Dharma Drum Sangha College. He was a prolific author, both of scholarly and popular books.